You may remember a famous scene from Indiana Jones and the Temple of Doom where Jones wants to get back home, but the elder in a small village demands that he stop off in a different town not even along the way to where Jones is trying to go.
So it was for me last night. I am super excited to report that I did my first official muscle up. I did this on rings having only touched rings once or twice in my life. I did this without training specifically for it. I did this essentially as a sideline "maybe I should give this a try". In truth, I have been working on the one arm chinup for awhile now, and if you do it correctly you will gain other benefits along the way long before you get a one arm chin. Namely, your pulling strength goes through the roof. So since I felt like my pulling strength was satisfactory, I wanted to try a muscle up. Real gymnastics-style muscle ups are done on rings and allow for proper natural rotation of the arms in the shoulder. No kipping, and a false grip is required to allow for pushing from a very-low dip position once you've pulled your hands to your breast. It's a skill. It's a skill that also requires strength.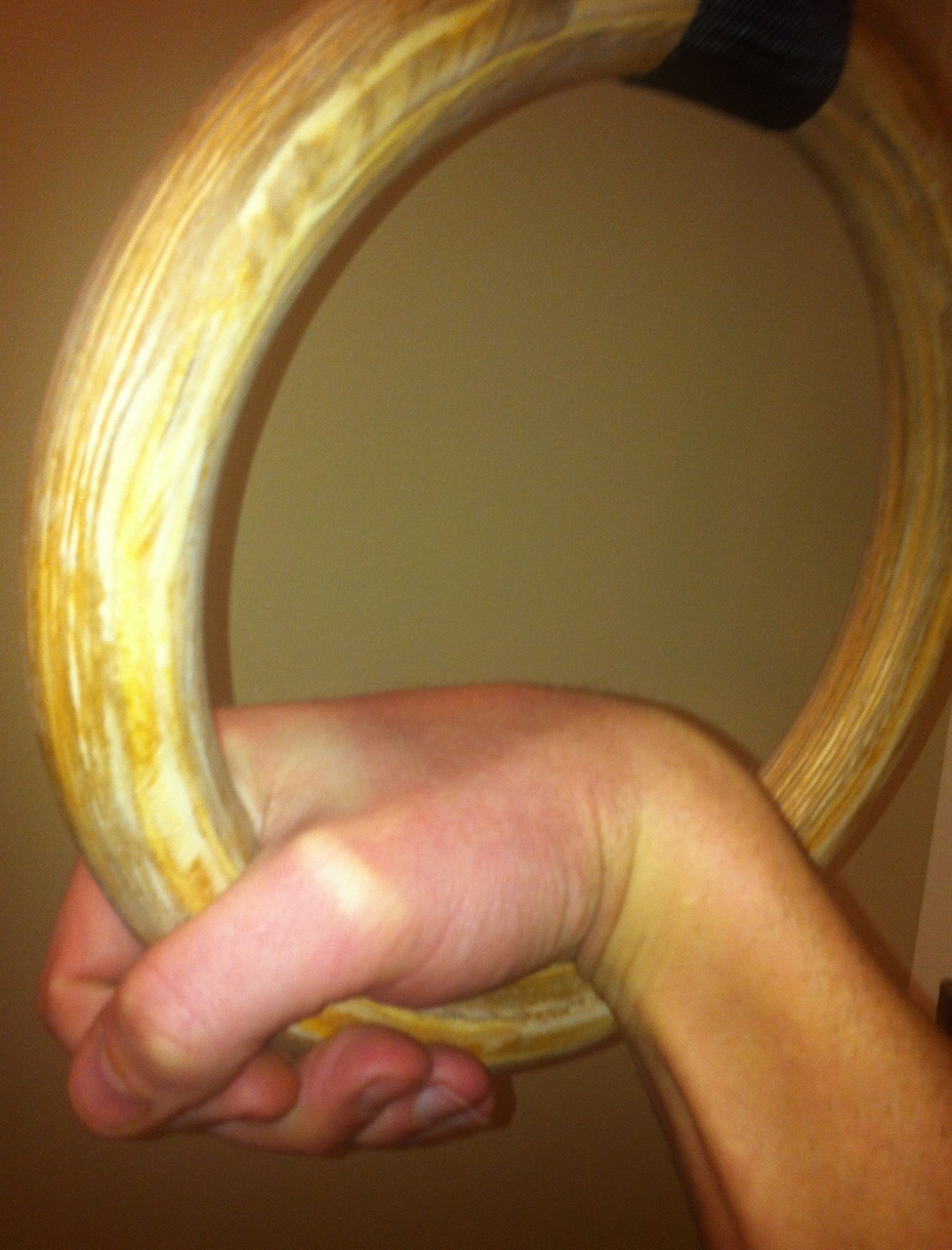 "False Grip"
Doing a muscle up on a bar is usually much harder (when done without kipping) because it requires almost incredible levels of strength in ranges of motion not usually trained by folks not specifically training for the bar muscle up. Freakish strength can often allow you to cheat on form like crazy in many different things (Handstands, etc)...until you get older and your strength goes down to only "exceptional levels". Learn the proper form and develop the strength and skills. Then you can go off and do whatever you want.
I'd like to thank my trainer
Daniel Spencer
for his assistance in this and in my handstand progression. It's a long journey and I'm thankful to have found some exceptionally knowledgeable folks along the way to help.